Tripawds is a user-supported community. Thank you for your support!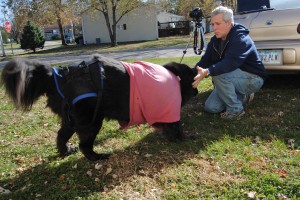 Hi! My name is Faith. I'm Coops Mom. I wanted to share something God gave me, when I was grieving over one of our dogs.  We had a Doberman for 14 years, then we adopted a dog from the shelter that we got because he reminded us of our dear Ben that we had so long. We only had a few months with him, when he fell over and died in our living-room.It was so horrible. But who can live, without having a dog?
It's unthinkable, huh? Well, to make a long story short, we adopted his brother, and had some happy years. We lived a nice 6 years with him, before he started having seizures. We did all we could with medication, but one day he just went into seizures & they never stopped. We had to let him go. I asked God why we kept getting all the "Broken Dogs". This is what he said…..
A MESSAGE FROM GOD
One question,  "Can I only expect you to walk through the Garden Of Life, and not the thistles, valleys, or hillsides?  Can you expect the good and not the bad? Can you not trust me, when the chips are down, heartache is at your front door?"
I chose YOU to handle the misfits-the broken animals, the homeless: ones discarded and not wanted. I knew that you would treasure, love, and hold open your heart to the broken, to the imperfect. What was considered garbage, you considered a treasure. Heartache and suffering, loving and caring. I place only those things I hold nearest and dearest to my heart, with those that I find trust worthy and obedient.
If you had to choose again, knowing the outcome, the history from beginning to end, would you have ventured whole heartedly into this Caregiver Position, weighing the good, the bad?
Yes, I could have fixed the broken, healed the healable. Sometimes tough things in life happens, and things seem dreary, unfixable. I am the Author of all things-, and need you to trust me. Unconditionally. Without hesitation. Trust me, without condition. Love me and know, I want the best for you!
I will love you. Hold you. Walk beside you. Carry you.
In answer to your question. Yes, I know what you've been through. Know your heartbreak. Know your sacrifices. They were for me! They are counted for. I chose you because I knew you would be faithful.
This is the answer to your question.
Love,
God
Now, I just know that God blesses  us with our canine friends to give us joy & to delight us! It takes a Special kind of person to love & hold onto our three legged friends.  Thanks for being there & sharing in Cooper's Journey as we enjoy each day , as God blesses us with him!