Tripawds is a user-supported community. Thank you for your support!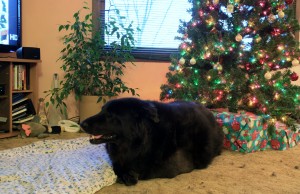 Twas the night before Christmas,
and at Cooper's place;
the tree was lit up,
and shined on his face.
The presents were resting,
right under the tree;
while good Cooper wondered,
"Which one is for me?"
When out on the lawn,
came a bang that he heard;
caused Copper to wonder,
was it moose, bear, or  bird?
He got himself up,
on strong legs of three;
hopped right to the door,
and what did he see?
A terrible sight,
a tangle of elves;
Eight caribou kicking,
and hurting themselves.
Santa's pack on the ground,
He was rubbing his head,
He hollered and yelled
nearly waking the dead.
"Oh no. Oh no,
What can I do?
My sleigh is all broken.
It's no longer new."
"All of the kids,
and every last dog;
will not understand,
it was cause of the fog."
"Woof  Woof" Cooper said,
"Maybe I can assist.
If up to me,
Christmas won't be missed."
"But you've only three legs."
Santa did wail.
"Santa, don't worry,
I still have my tail."
"Tripawds may seem
as if they are lame,
but really dear sir,
we elicit great fame."
"We all have our strengths,
like you and your deer.
My special gift
I'll give you this year."
"Hook me on up,
right to your sleigh.
No time to waste,
Lets go! On our way!"
Santa scrambled,
and Cooper he tied;
a square knot, a half hitch
now ready to ride.
The toys were reloaded,
elves tended the deer;
while Santa and Cooper
took to the air.
From Texas to Maine,
Nevada, Alaska;
California, Pennsylvania
and even Nebraska.
Games for the kids,
toys for the dogs;
treats for all pawrents,
and all good tripawds.
Cooper's tail was a rudder,
His legs were the prop;
from chimney to chimney,
to every rooftop.
To his own home
finally Cooper returned,
no worse for wear;
his Christmas he earned.
He gave Santa a lick,
Santa gave him a hug;
Cooper hopped back to the house
and onto his rug.
In front of the tree,
Coop took a nap.
Dreaming of all the gifts
he'll unwrap.
All of the visions
jumping round in his head;
Made hiim feel good
like when the tummy is fed.
Because he knew
he saved Christmas day
For all tripawd buddies;
like big Wyatt Ray.
For Comet the dog,
Not the reindeer you know;
Some shiny pink ribbons,
and a beautiful bow.
For Maggie the cow dog
More good, crazy things
like sticks and balls
and agility rings.
For Fortis, his buddy
a giant dog bone;
a saddle, a stick,
and a big ice cream cone!
For Christmas Holly,
Not petals of Zuzu;
but a Yogi Bear doll
and soft stuffy of Boo-boo.
As Cooper relaxed
and gave in to his rest
He remembered the part
that was really the best.
All over the country
In each monkey-dog bowl
On Christmas morning,
will be nothing, but coal.