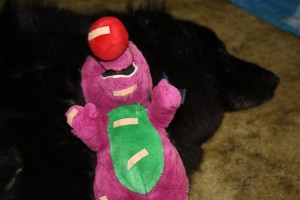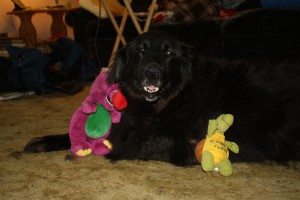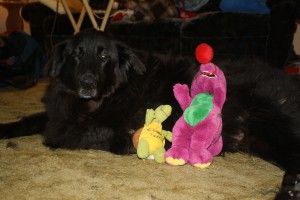 Well, it is a week since we came home from the cabin. I have been wanting to get on here and write about that purple beasty Barney, but my dad has been fussing around about me non stop  since we got home about something in my lungs – lung mints or something… if its mints he should be glad because maybe it will make my breath a little better … oh well, I didnt feel the very best while on vacation so my adventure with Barney was on the mild side , but here's a little re-cap of the events. Barney arrived here in the middle of May – sent from my beautiful girlfriend Isabelles house. This fact that he came from Isabelle created some confusion on my part as I smelled her and immediately thought she was sending me a wonderful friend! As my early pictures with Barney will show this clearly. It didnt take long to find out the truth – the only good thing about Barney was the smell of all my dog friends that had hosted Barney before me… and oh my dog!! how is it possible for the smell of so many good friends to be on one small purple dino?? I smelled Isabelle of course and Fortis and Holly and Ginger and Nova and Opie and Maggie and of course my hero Angel Catie Caitlin and beautiful Angel Mackenzie and Chloe and Lincoln and on and on!! I smelled Barney for hours getting to know all my pen friends.
Well Barneyy tried to eat my food… and I started to see how HE  was.. in the guise of friendship I offered him my rawhide bone which was so huge compared to Barney anf he almost got strangled by it! That was the closest I came to killing Barney but I didnt give up. When mom and dad took me to see my Aunt Anita and my cosin Eddie the poodle (monkeydog through and through ) but oh well he's family.. we left old purple britches at home with no food and water! But darned if he wasnt still alive when we got home!
But I knew we were going to cabin to the lake for a long vacation, and I thought oh good! A whole 11 ndays!! Bareny will starve for sure! But then!!! My dad brought Barney with us!! So there goes MY vacation! Early on I invited Barney outdoors to share a salad with Barney… hehehehee… little did he know that I like to eat itch weed…. hehehehee… as you can see by his many bandages – he got quite the rash!
I would have thought that would settle the reptile down but NOOOOO!!! As soon as my mom and dad left to take a day trip to Rock Island – Barney tries to steal my dads boat!!! I dont even get to go in my dads boat!! ( Of course I try to jump out and swim… ) but anyway, fair is fair and Im now just a little peeved! So before my mom and dad got back I caught that Barney dude and hung him from the ceiling fan and turned it on. Well, I didnt kill him , but let me tell you for the last few days he has done not much but lay around on my bed… yeah yeah I said my bed, I flet sorry for old purple britches a little and let him crash on my bed = whatever!! Anyway I want to thank the beautiful Isabelle for sending Barney to me and I want to also mention that before that Chloe had offered to send him but we had so much on our plate that we declined at that time. Thanks Chloe for offering! And to Spirit Jerry… I also smelled you on Barney and I am so honored that I got to share your toy…. thank you for this oportunity!